Sport & Fun
If you love nature, the adventure and have a good time you cannot miss these fabulous proposals!
PARAFLY EXPERIENCE
Do you want to try something really unique? An unforgettable experience?
Have you ever dreamed of flying, moreover over a beautiful blue sea ??
Well, if you really want that your dream comes true, contact us now !!
By a parachute pulled by a boat about 300 meters far from the coast; You can be up to 100m in height and enjoy the crystal clear waters of the Sorrento coast!
What are you waiting for?
MOUNTAIN BIKE TOURS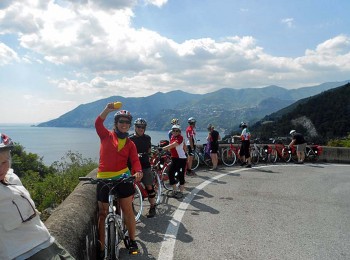 Live emotional adventures and unforgettable moments with your mountain bike!
Discover the most suggestive spots and magical trails with breathtaking views that only our land can offer, accompanied by an instructor that will teach you how to tread the paths.
Explore our Coasts and enjoy wind and sun on your face, we will lead you to uncover unforgettable views immersed in green and quiet, showing you our historic riches!
You will be insomuch inebriated by the scents and enchanted by the scenic beauty of our land to the point of not wanting to go away from her. Now choose your favourite tour, fasten your helmet , and goooo !!!
KAYAK TOURS
What better way to explore the unspoiled wonders of a Coastal Region than to paddle its shore?
We offer the chance to explore Italy's most beautiful Coastline from a most spectacular angle: the great blue sea.
Naples, Amalfi, Positano, Maiori, Cetara, the beautiful Furore Fjord and also Capri will never appear to you so lovely and enchanting. You will discover the Coast's hidden delights and breathtaking views safely from the seat of your sea kayak, thanks to the comprehensive experience and knowledge of Instructors from the Italian Canoe and Kayak Federation.
What are you waiting for? Book now your adventure!
UNDERWATER TOURS
For lovers of the sea and its magic depths.
There's a world of underwater adventures by the Amalfi Coast that awaits you!
Guided and assisted by experienced divers, you will have only to choose which of our fabulous seabed would like to explore between the many Marine Protected Areas that the whole world envies us!
Go across magnificent schools of fish, visit the submarine Sanctuary under the famous "Vervece "rock, where is located the statue of the Madonna protectress of divers and sailors!
Or discover what mysteries lie behind one of the most famous wrecks in Naples and maybe have a chance to capture that perfect shot of some elusive critter!
Your vacation here will became surely your new favorite dive site!
FLYFISH ADVENTURE
The Flyfish , an inflatable raft pulled by a speedboat that resembles a fish composed by three" bananas boats " merged together, is definitely the most impressive and thrilling marine sport activity on the beach. On the front transverse , a link rubber connects each banana boat with wings on the right and left so that its shape resembles a fish fin.
Its specific design causes that , boat's speed added to the wind force and the waves , it comes out of the water making big jumps. You will fly like a flying fish which gives him the name! There are several options of passenger position when trying flying fish such as: sitting on horseback , riding a motorbike or sleeping supine.
Test your limits to the maximum. You won't regret it!
Will you be able to keep your balance? Will our captain be able to unseat you and your friends?
Discharge the adrenalin with an exciting activity to share with your friends , and you will never forget!
SAILBOAT TOUR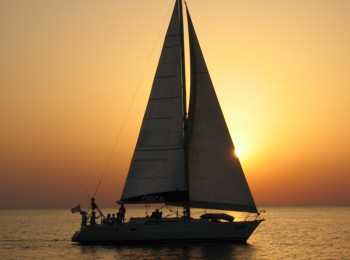 Step aboard one of our sailing boat and the outside world starts to melt away.
An amazing full day , on board of a magnificent Sailboat with a professional skipper who will teach you how to sail , awaits you!
Close your eyes, feel the sun on your face, breathe the fresh salt air, hear the sea splashing against the hull and the wind in the sails.
In the radiant sun and a warm breeze in the hair, you will sail towards Capri and the Amalfi Coast with the chance to refresh yourself in the beautiful waters of the Coast after a delicious lunch prepared on board.
All this will make you to desire to immediately leave for a new adventure with us to create new sensational memories!