Land Sports
Captivate your senses taking part to our bike tours totally immerse in the nature of the Sorrentine Peninsula or getting around betwen monuments and old streets of Naples full of history, but, if you need more adrenaline you cannot miss the unique opportunity to hanging you on a wall overlooking the sea with Capri on background.
Choice is just yours!
Bike Tours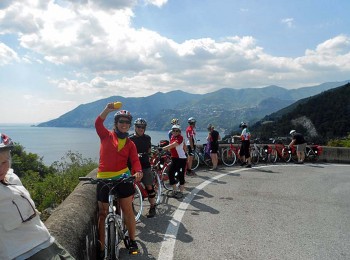 Live emotional adventures and unforgettable moments with your mountain bike!
Discover the most evocative places and magical paths with breathtaking views that only Massa Lubrense with the Sorrento Peninsula or the Amalfi Coast can offer, accompanied by an instructor who will teach you how to tread the paths.
Explore our Coasts and enjoy wind and sun on your face, we will lead you to uncover unforgettable views immersed in green and quiet, showing you our historic riches!
Or discover Naples looking at it from a completely different perspective: the seat of your bike!
Lose yourself in its history, around the most important monuments, between the warmth and the "color" of the Neapolitans.
You will be so inebriated by the scents and enchanted by the scenic beauty of our land to the point of not wanting to go away from here!
Now choose your favorite tour, fasten your helmet and goooo !!!
Free Climbing
Do you want to try something really breathtaking?
Then book a climbing on the rocky wall of Punta Campanella!
There are many climbing points in Massa Lubrense, along the Amalfi Coast and the Sorrento Peninsula, but surely the protected area of Campanella will take your breath away! Suspended on a clear sea, kissed by the sun, you will be so close to Capri that you will almost feel like touching it!
Or you can climb right on one of the walls of the island, or the Amalfi Coast.
Nature and the landscape will be your true, boundless and indispensable open-air gym!